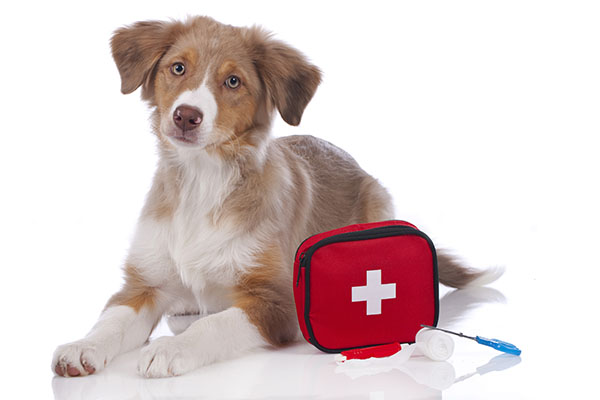 As a responsible pet owner, we know you want the best for your furry friends, which means having what you need to help them in case of an emergency. A pet first-aid kit is an important accessory to keep in your house and might help you treat a serious pet injury enough so you have time to get to the veterinarian. The team at Eastside Veterinary Associates suggests the following for your pet first-aid kit:
Pet First-Aid Kit Basics
According to the Red Cross, one of the most important elements to include in your first-aid kit is a way to identify your pet. This includes a current photo and any relevant vaccination or medication records in case you and your pet get separated. Be sure to have your contact information listed clearly. If your pet has a microchip, make sure that your contact information is up to date so that you can receive the call when they find your pet. You should also have a comfortable and safe carrier, a collar and leash, a blanket or bed, and toys. A couple of travel bowls will make it easier to give your pet food or water if you find yourself far from home.
Guides on Basic First-Aid
Although we hope you never have to use them, it is a good idea to include guides on basic pet first-aid in your kit. These will have instructions on dog CPR, cat CPR, and other life-saving measures that will help you act fast in case of an emergency. These guides will also give you information on safely traveling with pets and what to do in case of a natural disaster.
Medical Supplies
No first-aid kit is complete without a selection of medical supplies that can help you stop bleeding, or address other injuries until you can get to your veterinarian. Be sure to include the following:
Gauze

Medical tape

Scissors

Tweezers

Digital thermometer 

Hydrogen peroxide

Towel
During an emergency, every second counts, and the team at Eastside Veterinary Associates hopes that these tips help you ensure pet safety even at home or on the road. When your pet needs more extensive veterinary care, we are always here to help. From wellness checks to surgery, we have a long list of veterinary services to keep your pets healthy. To learn more or to schedule an appointment, please call 425-882-7788 for our Kirkland location or 425-276-4100 for our Newcastle location.