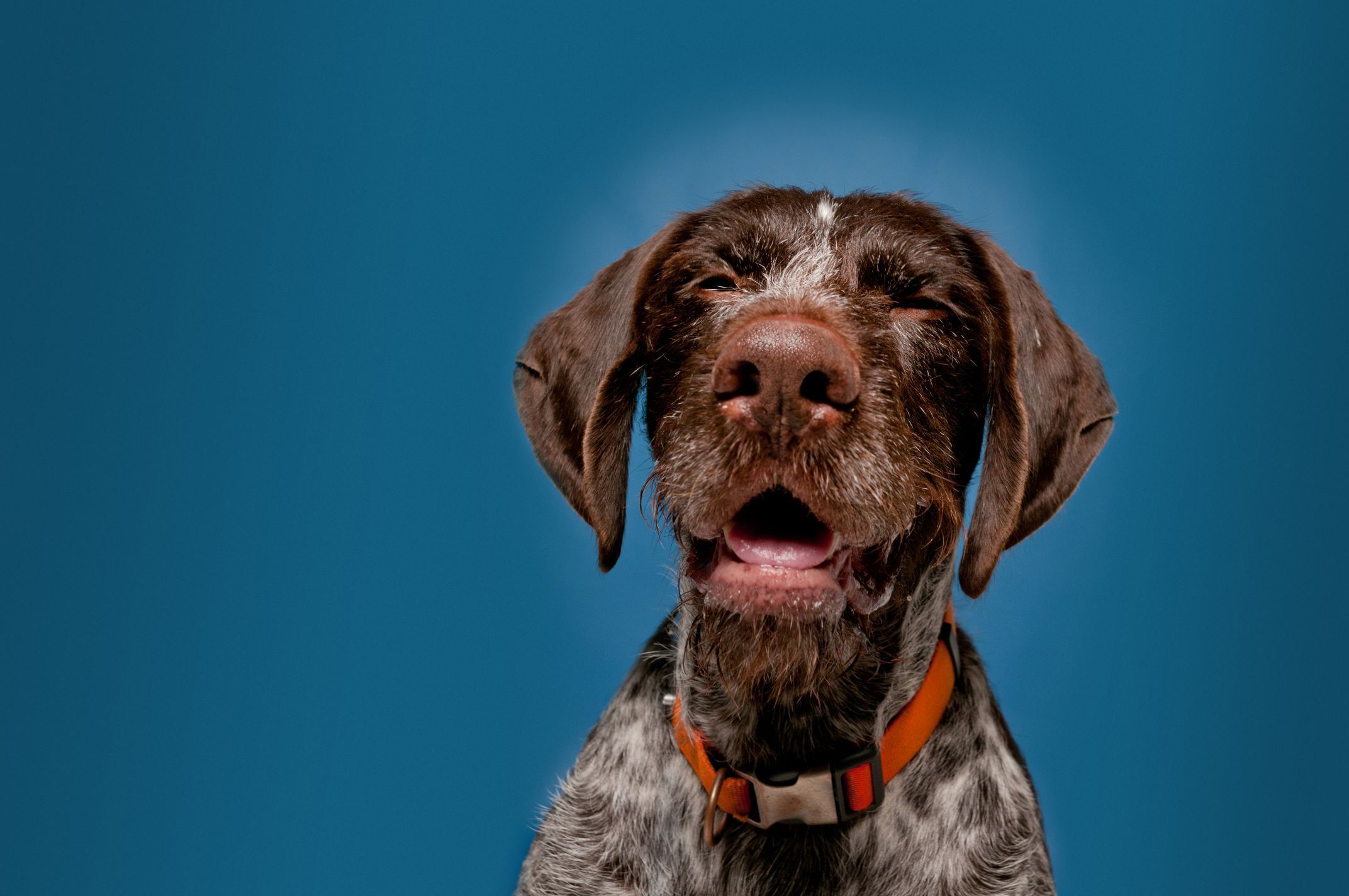 If you hear an unusual, somewhat alarming sound from your dog—not quite a sneeze, not quite a cough—you might ask yourself, "What was that noise?"
This unusual honking sound could just be a reverse sneezing, and this article will discuss what it is, why it happens, and what you can do about it. 
What Is a Reverse Sneeze?
Reverse sneezing is a fairly common condition that affects dogs of all ages and breeds. It may last for just a few seconds or go on for several minutes. During a reverse sneeze, the dog suddenly stands still, extends its head and neck, and produces a snorting sound.
A reverse sneeze is a sudden, involuntary inhalation through the nose accompanied by a loud snorting sound. A dog may reverse sneeze several times in a row or just once. It's not unusual for the dog to have a mild nasal discharge and difficulty breathing during or after the episode.
Why Is My Dog Reverse Sneezing So Much? 
It's not entirely clear why some dogs experience reverse sneezing, but it's thought to be because of irritation of the soft palate (the flap of tissue that connects your dog's mouth to his nose) or trachea (windpipe). Excitement, stress, or water getting into the airway during exercise may also contribute to episodes. 
Reverse sneezing has been linked to allergies, which can cause inflammation of the nasal passages and windpipe. This inflammation makes it difficult for air to pass through your dog's nose and throat. 
When your dog tries to inhale, the throat momentarily closes off. Your dog then opens its mouth quickly to try again—this is when you hear the loud snorting sound. The pressure behind the closed windpipe causes your dog to take rapid, shallow breaths, similar to a short series of sneezes.
Airway irritation can be caused by: 
Allergies to dust or pollens

Smoke, perfume, or chemicals

Nasal congestion

Sinusitis (an infection or inflammation of the lining of the sinuses)
How Can I Treat My Dog's Reverse Sneezing?
The best treatment for reverse sneezing is prevention. Try to avoid situations or substances that tend to bring on reverse sneezing in your dog. Anxiety and stress—even excitement—can exacerbate the problem. 
If your dog begins to reverse sneeze, stay calm and let the episode pass on its own. You can help your dog by holding it upright and gently rubbing its back or massaging its throat until the episode passes.
What If My Dog's Reverse Sneezing Is Getting Worse? 
If your dog's reverse sneezing becomes worse, contact your veterinarian.
Reverse sneezing can be alarming to witness and hear. Your dog may appear to be choking, with its head back and mouth open. But this behavior is actually a reflex that causes the soft palate to contract and then relax repeatedly. 
Your dog may seem restless during an episode of reverse sneezing, but it shouldn't show other signs of distress, such as pawing at its nose or face, gagging, or trying to vomit. If your dog displays these symptoms and can't clear its airway after several attempts, seek immediate veterinary care.
If your dog has had episodes of reverse sneezing in the past, it's likely to continue throughout its lifetime—although the occurrences may become less frequent with age.
Reverse Sneezing Should Resolve on Its Own
If you have questions about your dog's reverse sneezing, give us a call at 425-882-7788 for our Kirkland location or 425-276-4100 for our Renton location. Our team is always happy to help!