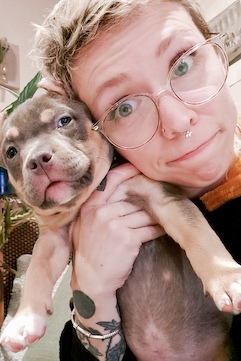 Licensed Veterinary Technician
Pets: American Bullies, Dory and Sincere. Blocky headed clowns with a ton of heart.
"Until one has loved an animal, a part of one's soul remains unawakened." -Anatole France
After 6 years in corporate veterinary medicine, I'm excited to grow and create new relationships with my clinic, clients and pets!
Outside of work, I am interested in houseplant cultivation, gardening, and travel. I am also interested in canine nutrition and holistic wellness. I am new to conformation and the dog sports world!
Dory and Sincere's names are a nod to music and movies my husband and I love. Our little time capsules of happiness.