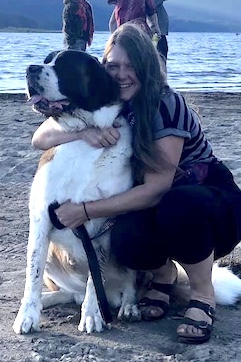 Customer Service Coordinator & Veterinary Assistant
Pets: Plucky, Shakey and Bunny
"Helicopter dog parents and crazy cat ladies, you're my peeps! I love animals, and I love people who love animals."
I'm relatively knew to veterinary care, so earning my way to a clinic with the high standards of care EVA holds is such an honor and a privilege. I really feel I'm part of the best here.
Anything that gets me out in nature fills my soul.
Big fluffy dogs are my kryptonite. I had a wonderful Newf mix growing up named Barge and got my Saint Bernard, Plucky, looking for a dog that reminded me of him. Best decision of my life. Once you own a Saint, there's just no going back–everyday you wake up with one hundred plus pounds of floof next to you is just awesome. All of the drool and the hair in the world could not keep me from loving this majestic breed forever. I also have two adorable dachshund/pug mixes through my boyfriend, Will, and well, they're pretty fabulous too!