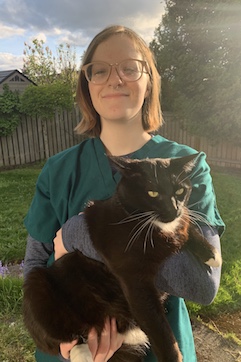 Kennel Attendant
"Animals are not pets, they're friends- and friends deserve heartfelt love and quality attention and care. This is why I want to always have a close connection with animals now and in my future, helping them to live their best lives."
I began working at EVA and have learned more about animal care and working with others than I have in any other situation. After spending several years riding and volunteering at a horse farm, I wanted to have my future jobs be related to animal care, so EVA was perfect for me, especially since I live close by. I love getting to meet various dogs and cats as they really show me just how unique every pet can be.
I am an artist, music lover, and gamer. While I have not been able to ride a horse in a long time, it is something I am deeply invested in and will continue to do for the rest of my life.
I got my pet from a Seattle Humane facility after my cat Kabuki had recently passed away. Cats have always been part of my family so we knew it was time for an addition to the family. When I got there, we were looking at a young black kitten that was popular with other adopters – however when I walked into one of the kitty rooms, I sat down, and Pumba hopped right into my lap and made himself comfortable. I would like to think that he chose us, not the other way around. He had been sent back to the shelter twice because of biting issues, but we quickly trained him to stop and now he is the friendliest, goofiest cat you will ever meet.