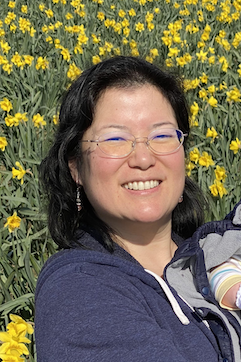 Licensed Veterinary Technician
All the creatures should be treated with love and respect including our furry friends and humans (and spiders! Hey you over there, don't frown. They are good guys:).
I try to remember that every day as I interact with patients, patient's family, and coworkers.
I grew up in Japan, where I volunteered at a museum and an animal rescue group. I was also national park ranger/researcher, and worked at small animal hospital after graduating from University. I moved to Seattle and had different jobs while learning English. After I became more familiar with this culture and comfortable with the language, I found the passion of working with animals again. I worked at a small animal practice and Emergency room. In 2017, I coincidentally met Dr. Hung at a seminar who was looking for Licensed Vet Tech at that time. We started talking and before you know it, I became one of the team members of Eastside Veterinary Associates. Time flies.
When I'm not working, I spend time with friends, go out social dancing (Lindy hop, Blues, Tango, etc.), hiking, camping, and cuddle up with my fur baby. And oh yes, I enjoy good food!
Macky was tiny.
Found in a dumpster.
Renton animal control officer brought him in.
He had strong lungs.
He had weird sparse long white hair all over and crazy white ear hair sticking out.
I fell in love.
Decided to adopt.
Got rid of giardia.
I was happy to take him from the hospital.
The day after I brought him home, realized he had ringworm!!
After few months of treatment battle, he was ringworm free! At last!!
Due to the treatment, or his natural growth process, who knows, but he lost most of his signature white long hair and became just a black medium haired cat!!
I joke sometimes that I didn't sign up for just a black cat.
He is a brat but I love him nonetheless.