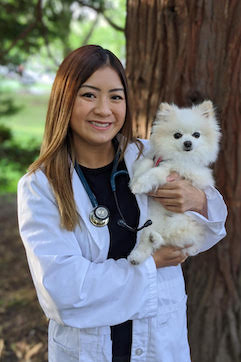 Associate Veterinarian
Education: Ross University
Hometown: Tampa, Florida
Pets: Creampuff, the 10-year-old Pomeranian
"Pets are part of our family, and they have a special place in our hearts. My goal is to provide excellent care and to provide you guidance in making decisions about your pet's health." – Dr. Celine Lopez
Dr. Celine Lopez recently joined our Eastside Veterinary Associates team. She was born in the Philippines and moved to the States at a young age. She lived in Illinois and Indiana but mostly grew up in Florida. During her studies, she worked as a pet nurse aide for a corporate veterinary hospital and as a vet assistant for a house-call veterinarian. Dr. Lopez received her Bachelor of Science in biology from University of Central Florida and her Master of Biomedical Sciences from Barry University. She earned her Doctorate in Veterinary Medicine from Ross University. Dr. Lopez is interested in preventative medicine, soft tissue surgery, community outreach, and acupuncture. She is currently studying for her acupuncture certification from the Chi Institute.
Her hobbies include running, kickboxing, salsa dancing, learning languages, and traveling to new places.
She has a Pomeranian whose name is Creampuff since he is a little ball of fluff.