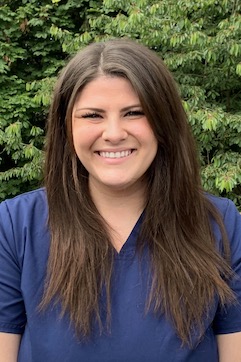 Associate Veterinarian
Education: Washington State University
Hometown: Sammamish, WA
Pets: Violet – 7-year-old Chihuahua/Dachshund mix ("Chiweenie")
Dr. Grace Allodi is a recent graduate from the Washington State University veterinary
school in Pullman, WA. Before attending vet school, she earned a Bachelor's degree in
Animal Science at WSU. Dr. Allodi grew up in the Issaquah-Sammamish area with an
array of animals including dogs, cats, chickens, ducks, hamsters, guinea pigs, goats, and
horses. Dr. Allodi has strong interests in behavior, geriatric medicine, pain management,
and preventative care. She is currently working towards her veterinary acupuncture
certification and has special interests in integrative medicine including Traditional
Chinese Veterinary Medicine and physical rehab. In her free time, Dr. Allodi enjoys
cooking with friends, attending local concerts, findings new hikes, and exploring the
PNW with her partner Ryan and their dog Violet.