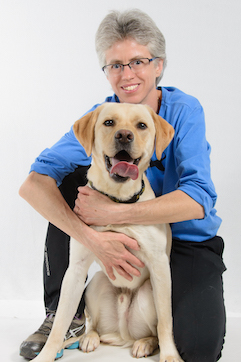 Associate Veterinarian, Newcastle
Education: 1992 Grad, NY State College of Veterinary Medicine at Cornell
Pets: Three Labradors, ranging from 1 to 12 years old, and one elderly cat.
"I don't have pets, I have a mixed species family."
After nearly 30 years of full time veterinary practice and over 20 years as a practice owner, I am very happy to be able to join the EVA team as a part time associate. I enjoy helping people who love their animals as much as I do and working with them to help their animals live their best lives. I especially enjoy working with cats.
I love playing with my dogs, training and competing with my dogs in dog sports, and spending time with my family on the beach, in the woods, and at Sniffspots, far away from other people and dogs. I also am an avid amateur photographer, primarily interested in animal action photography and candid animal portrait photography.
My cats have all been adopted from veterinary hospitals or rescue groups where they were abandoned due to medical needs. Since I became active in dog agility over 25 years ago, my dogs have all been from breeders who focus on producing working and performance Labradors. The dogs are all aspiring, active, or retired performance dogs, training and competing in agility, scent work, dock diving, and more.