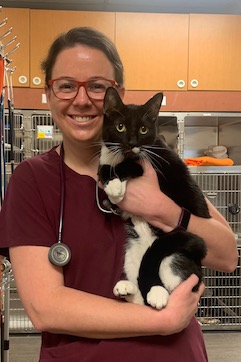 Associate Veterinarian - Newcastle
Education: Associate Veterinarian Education: University of Tennessee, College of Veterinary Medicine
Pets: Two cats: Lumos and Possum
"Preventive medicine isn't just for people. Keeping animals healthy ultimately helps keep humans healthy." -Barbara Natterson-Horowitz in Zoobiquity
I grew up and went to veterinary school in East Tennessee before moving west. I practiced for several years in Phoenix, Arizona before deciding to move closer to family and practice in Washington. I joined Eastside in the summer of 2022 and am so excited to be a part of this wonderful team who serves the animals of our community so well. My favorite areas of practice are preventive care, internal medicine, ophthalmology, behavior, and promoting the bond between owner and animal.
Outside of work, I love to run, hike, and cook/bake.
Possum was a bottle-fed baby who I have had since she was a week old. At that point, she looked more like a possum than a kitten, so the name stuck!