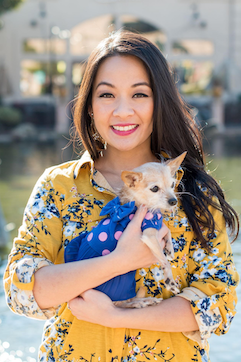 Associate Veterinarian
Pets: Cats Pumpkin and Monkey, In loving Memorium Mimi the teeny tiny  2.5 lbs Chihuahua who taught everyone around her how to love animals
"Every patient and family leaves a lasting footprint in my heart. My goal is to provide personalized compassionate and quality vet care by using a practical, but thorough approach."
Dr. Tuyet-Anh Hoang joined Eastside Veterinary Associates in the summer of August 2020. Dr. Hoang finds reward in helping pets and their owners through challenging diseases through the early life stages to the tough senior ages. She brings with her the special interest and expertise of managing chronic internal medicine diseases, chronic pain/arthritis management, urgent/emergent care, and advanced dentistry and surgery. Dr. Hoang is passionate about client education and wants to work with you and your pet as a team, to help with your own needs as a family!
Dr. Hoang was born and raised in Seattle, WA and attended the University of Washington before her veterinary doctorate degree at Western University of Health Sciences, College of Veterinary Medicine in Southern California in 2013. She then completed a rigorous small animal internship at the Veterinary Specialty Center of Seattle in Lynnwood from 2013-2014 where she trained with the best specialists in the region. She has since been a general practitioner and emergency veterinarian at a hospital in Issaquah, and is excited to join the team at EVA to be closer to family!
Outside of her love for veterinary medicine, she enjoys traveling, cooking, and hiking. Her fur babies include two precious cats, Pumpkin and Monkey, and in memorium, Mimi, the smallest dog who blessed all those around her with teaching empathy. She has been involved in pet volunteer work and has traveled internationally to help domestic animals in spay/neuter veterinary missions.