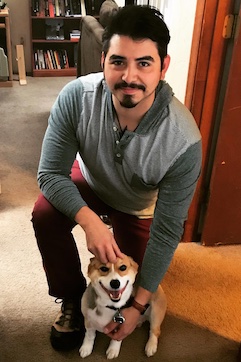 Practice Manager
"The journey is long and beautiful. Find beings who want to enjoy it with you. In my case I have found 3 wonderful dogs who see the wonder and joy in things I take for granted."
I have worked in the vet field for 2 years. In Emergency and in Internal Medicine. I've loved learning about the intricacies of vet care.
Outside of work, I am a crafty person, so making anything with my hands is so much fun for me. I sew, crochet, wood carve, leather work, up-cycle & eco-craft. I also love the outdoors; hiking, camping, river rafting.
I found my first dog at the shelter I volunteered for. He was just a tiny little shadow in a big cage. I meant to name him for what he looked like, Anubis, but forgot my Egyptian mythology…thus Osiris was born. As for my other two, they belong to my spouse and thus are mine. They are all a blessing to have in my life. The Corgi (Augustus) in particular is disabled having recently torn his CCL. This makes us slow down a bit, but has also made our time with him more precious. The "big dog" (Kessler) is our cuddle bug. Her idea of heaven is food and non stop petting.