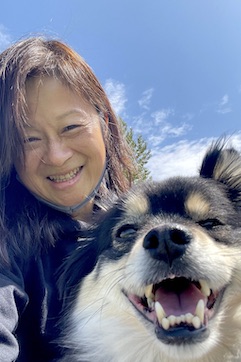 Practice Administrator
Pets: Goma (the Pomeranian, possibly long haired Chihuahua mutt)
"There is no better way to learn about compassion, empathy and unconditional love than by having a pet."
My first experience with Eastside Veterinary Associates came as a pet owner.  The entire staff of EVA took care of our beagles in their old age and last days with so much love and care.  A few years later, Dr. Judy had a puppy come in that needed a home and she called me because she knew he would fit right into our family.  Not only did we get a puppy, she also hired me to help out with the hospitals.  I like to think that I'm a utility person for the hospitals.  I manage inventory, I troubleshoot computer problems, I maintain the website and I sometimes sew things for the hospitals and cook lunch for the staff.
Outside of work, I am mostly busy taking care of my three sons.  I also enjoy playing tennis, sewing, knitting and crochet and cooking.
Goma means sesame in Japanese. Dr. Judy thought he was going to be a tiny dog, so we named him Kuro Goma, black sesame seed. Goma is no longer a tiny puppy, but a scrappy fifteen pound ball of crazy energy with a marvelous tail.  He has a special relationship with each member of our family and with our couch.