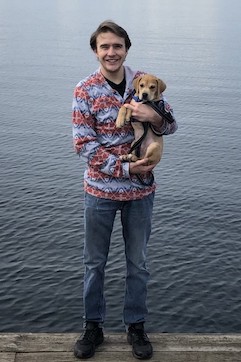 Kennel Attendant
Pets: Joey, 1 year old Black Mouth Cur
"Dogs will always be man's best friend"
I worked at a grooming salon for 6 months as a groomers assistant and found my true passion for animals.
I am currently going to Renton Technical College, attempting to get my Veterinary Assistant certification. I like going hiking, running, and playing soccer.
I got my dog from a breeder in Monroe who rescued my pup and his older brother from Texas. Joey got his name buy constantly jumping around and his light brown/tan coat. He acted like a baby kangaroo. Also most of my family graduated from Lake Washington High School, whose mascot is the kangaroo. So the name Joey seemed perfect.